Melek  Çetinkaya, mother of Furkan Çetinkaya, one of the military cadets who were jailed on coup charges in the aftermath of a failed military coup in July 2016, has marched to the ruling Justice and Development Party (AKP) headquartrs in Ankara in order to demand an end to her son's 3-year-long imprisonment.
According to the Kronos news portal, Çetinkaya's march was stifled by Ankara police when she started waving a banner that read "19-year-old cadets were given life in prison on coup charges."
She was also heard yelling "damn you and your justice!."
A total of 259 military cadets were detained on coup charges on July 16, 2016 and were arrested four days later. The cadets were indicted one year after they were sent to jail, and their trial was concluded in May 2018. One hundred seventy-eight of the cadets were given life sentences on charges of attempting to overturn the constitutional order and attempting to overthrow the Turkish government and parliament by use of force as well as membership in a terrorist organization.
The cadets say they had no information about a coup attempt unfolding and were acting on orders from their superiors, who told them there was a terrorist attack.
The military coup attempt killed 249 people and wounded more than a thousand others. Immediately after the abortive putsch, the Justice and Development Party (AKP) government along with President Recep Tayyip Erdoğan pinned the blame on the Gülen movement. The movement strongly denies any involvement in the failed coup.
38 aydır cezaevinde olan Hava Harp Okulu öğrencisi Taha Furkan Çetinkaya'nın annesi Melek Çetinkaya, Ankara'da AKP önünde protesto yapmak istedi. Fakat polis tarafından engellendi. pic.twitter.com/2UCaPiuGPQ

— Kronos (@KronosHaber) September 17, 2019
Mothers of imprisoned cadets stage sit-ins at ruling party buildings across Turkey
Mothers of military cadets who were imprisoned after a 2016 coup attempt have stated sit-in protests in front of several ruling Justice and Development Party (AKP) buildings, Deutsche Welle Turkish service reported.
The women demand justice for their sons who were detained after the failed coup, tried on charges of terrorism and handed down lengthy prison sentences.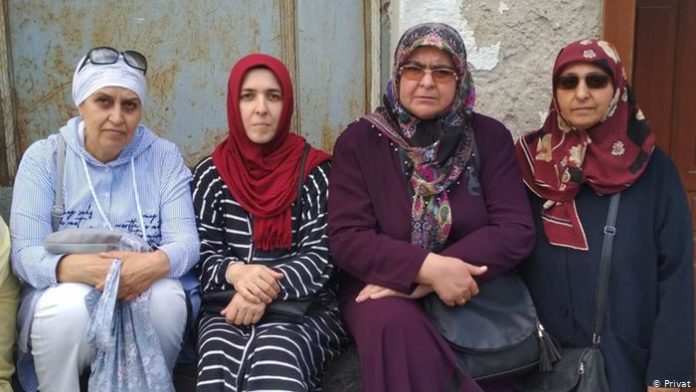 The women gathered in front of the AKP provincial building in İstanbul on Monday, only to be blocked by the police.
On Tuesday they took their protest to AKP headquarters in the capital city of Ankara.
They were joined by Cemal Yıldırım, a former civil servant who was dismissed from public service by a government decree. He was detained by the police when he tried hold up a banner.
One of the mothers, Melek Çetinkaya, said it was a double standard that their protest was not permitted while mothers whose children were allegedly kidnapped by the terrorist Kurdistan Workers' Party (PKK) were allowed to hold sit-ins in front of the Kurdish Peoples' Democratic Party (HDP) headquarters in Diyarbakır.
"If their children were kidnapped by the PKK, ours were kidnapped by the government," Çetinkaya said.