Purge Museum, "Tenkil Müzesi" in Turkish, an initiative that collects and exhibits items belonging to the victims of Turkey's massive crackdown on the Gülen movement, opened for a ten-day run in Brussels on Friday evening.
Turkish President Recep Tayyip Erdoğan and his government labeled the movement an "enemy of the state" after a police investigation into corruption implicated Erdoğan's close circle in late 2013. Overall the objects depict the horror and cruelty of detention and restrictions and a longing for loved ones in prison, the dangers of fleeing Turkey and new beginnings in a strange country.
From a bloodied pair of shoes to ripped T-shirts, to broken glasses, here is a look at some of the Tenkil Museum's more than 3,000 artifacts—and the heavy stories they carry.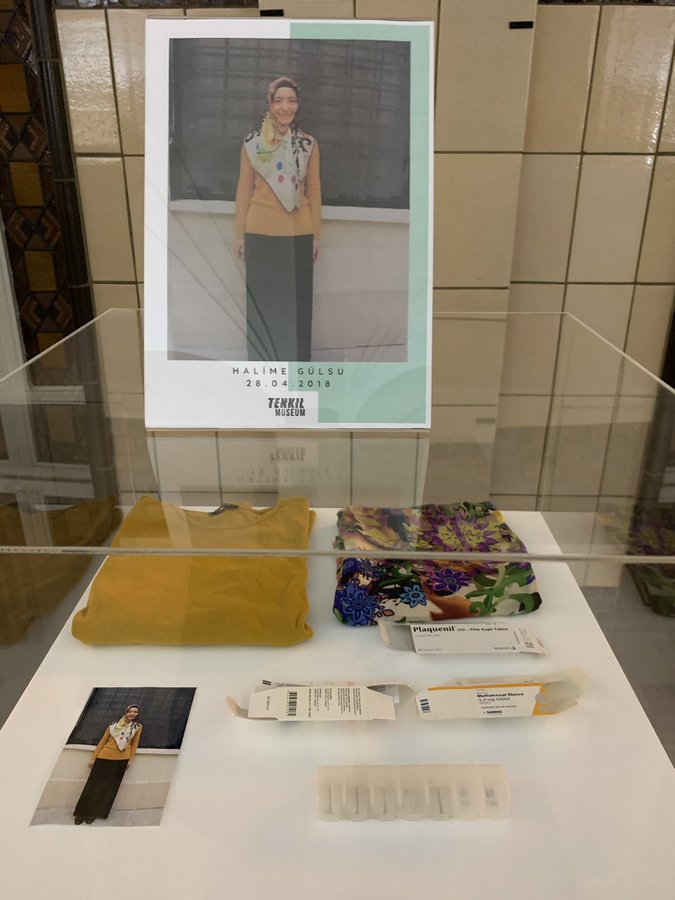 This shirt, skirt and pill containers belonged to Halime Gülsu, a Turkish teacher who died in a Mersin prison due to deprivation of the medication she took for lupus erythematosus. According to main opposition Republican People's Party (CHP) deputy Sezgin Tanrıkulu, Gülsu was not given her medicines during 15 days of detention and afterwards in a Tarsus Prison cell that she shared with 21 people. Due to health problems she was taken to Mersin City Hospital on April 25. But she was sent back to prison, where she went into a coma and died. Halime Gülsu was among a group of women who were detained for organizing aid activities for the families of people dismissed from their civil service jobs following a coup attempt on July 15, 2016.
📍Hasselt – Limburg – BELÇİKA Sergisi

📆 1-10 Kasım 2019

Gözaltında işkence ile öldürülen öğretmen Gökhan Açıkkolu'nun kırılan gözlüğü ve diğer eşyaları Adalet Bakanlığı Sergi Salonu'nda sergileniyor. pic.twitter.com/H2JEt3t6My

— Tenkil Müzesi (@tenkilmuzesi) November 2, 2019
These broken glasses belonged to Gökhan Açıkkollu, a purged history teacher who died of a heart attack while under detention in 2016. In a video footage released by the Bold Media, Açıkkollu is seen in a one-person cell with four other inmates in the basement of an İstanbul police department building. At around four in the morning on Aug. 5, he starts showing signs of discomfort. He approaches the bars and calls out to police officers for a few minutes, but no one shows up. After he returns to his bed, spasms begin a few minutes later, which wakes up the other detainees in the cell. It takes four more minutes until detention ward officers take him out of the cell, at which point he no longer shows signs of life.
These T-shirts and a pair of shoes belonged to Ahmet Turan Özcerit, a UK-educated computer science professor who died of liver cancer in February 2018. Özcerit obtained his master and PhD diplomas from the UK's Sussex University before he started working at Sakarya University's Faculty of Computer and Information Science. He was an associate professor at Sakarya University when the government dismissed him from the office over ties to the Gulen movement on Sep 1, 2016.
When he was dismissed he had already been jailed. While under pretrial detention, Özcerit was diagnosed with cancer in his liver and intestines. His son Sinan Özcerit has regularly shared updates regarding his father's time in prison and about the academic's ultimate release from prison to a hospital.
TENKİL SÜRECİNDE VEFAT EDEN ;

– Halime GÜLSU , Esma ULUDAĞ , Ahmet Turan ÖZCERİT…

– Meriç ve Egeden geçmek isterken boğulan aile ve çocukların eşyalarını #TenkilMüzesi Hasselt – Limburg – BELÇİKA Sergisi'nde görebilirsiniz pic.twitter.com/ZGJMjMiEjS

— Tenkil Müzesi (@tenkilmuzesi) November 2, 2019
Some 500,000 people were subjected to prosecution after the abortive putsch, according to the Justice Ministry, and there are still over 30,000 Gülen followers in prison. More than 700 children under the age of 6 are accompanying their mothers in prison and live in poor conditions.
Several international reports indicate that incidents of torture and ill treatment have been on the rise since the 2016 failed coup in Turkish detention centers.
The solution for thousands of Gülen movement members is to flee Turkey, where they face imprisonment or social stigmatization, narrowing their opportunities to maintain a decent life.